What does Brush & Color Painting do for me?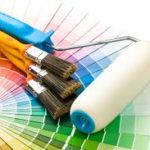 Brings fresh life into a space. Renewing energy through color and the use of health-promoting paints to make a space more energized and inspiring.

Protects surfaces. A fresh coat of durable paint with a lifetime

warranty

protects the surfaces from any invaders such as mold, bugs, and general dirt.

Changes the mood and environment. A nice paint job, with

mineral-based

, health-promoting paints can drastically improve the mood or "vibes" of a space. Have you ever been in a room with bright orange walls and felt uncomfortable? Or how about a room with some

dark blue walls

and felt relaxed? Color can make or break a room! On top of that we have the ability to choose healthy paints that can add value to the air quality

Improving air quality. Mineral based paints as well as paint with charcoal-technology in them can actually clean the air in a room! It's like putting a tree in your room. Add some plants and your space is actually working to keep you breathing fresh air, and improving the environment. Why would we choose otherwise?
What problems does Brush & Color Painting enable you to solve or avoid?
Bad Vibes. Change the chemical formula of a room by adding alkaline paints made from natural,

organic minerals

and add some inspiring or relaxing color and the general mood of a room can be transformed from negative to positive.

Impaired Cognition. There have been studies done showing that heavy chemicals off gassing in the air of workspaces can impair workers' cognitive functions.

Asthma and allergies. Air purifying paints can improve air quality and combat bacterias that cause inflammation and allergy symptoms. We use

ZERO VOC

paints and non-toxic paints when applicable.

Headaches & Distractions. The wrong color or smell in a room can distract you from your goals and cause headaches. Change the color and change you productivity!
What rewards can I look forward to after choosing Brush & Color Painting?
Increasing the value of your time through improving cognition and productivity

Healthy air, breathing improvements. If you have allergies or allergenic symptoms,

eco-painting

can help to relieve many of these symptoms.

Great Results! We will deliver your desired results with a huge smile on our faces. Improving your environment improves the environment, and that makes us smile!
What does having Brush & Color Painting do our paint project enable me to do better?
Relax. Brush & Color will let you know the % of job completed at the end of each day. We will only play music after your permission, and we only listen to Mozart! We will be clean and set up adequate ventilation.

Work. If you work from home, you will not have to worry about loud music, smoke, rackets from a mess and dust or any "normal" distractions from contractors. We are quiet and clean!
What efficiencies do I take advantage of by choosing Brush & Color Painting?
That is a great question!

The efficiency of getting it done right the first time. Clarity of the project outcome will be acknowledged during the estimate.

Renewable & sustainable energy. The improved moods and quality of your space will last, and remain health-promoting.

Done in timely fashion, as promised. If the project doesn't change scope during production, nor will our end date! We finish on time and on budget every time. Unless of course you decide to add to it, which is always encouraged!
Brush & Color Painting is happy to serve you and help change the world for the better! Book an estimate today!